The Rise of Grazing Tables: Why They're the Hottest Trend in Event Catering
---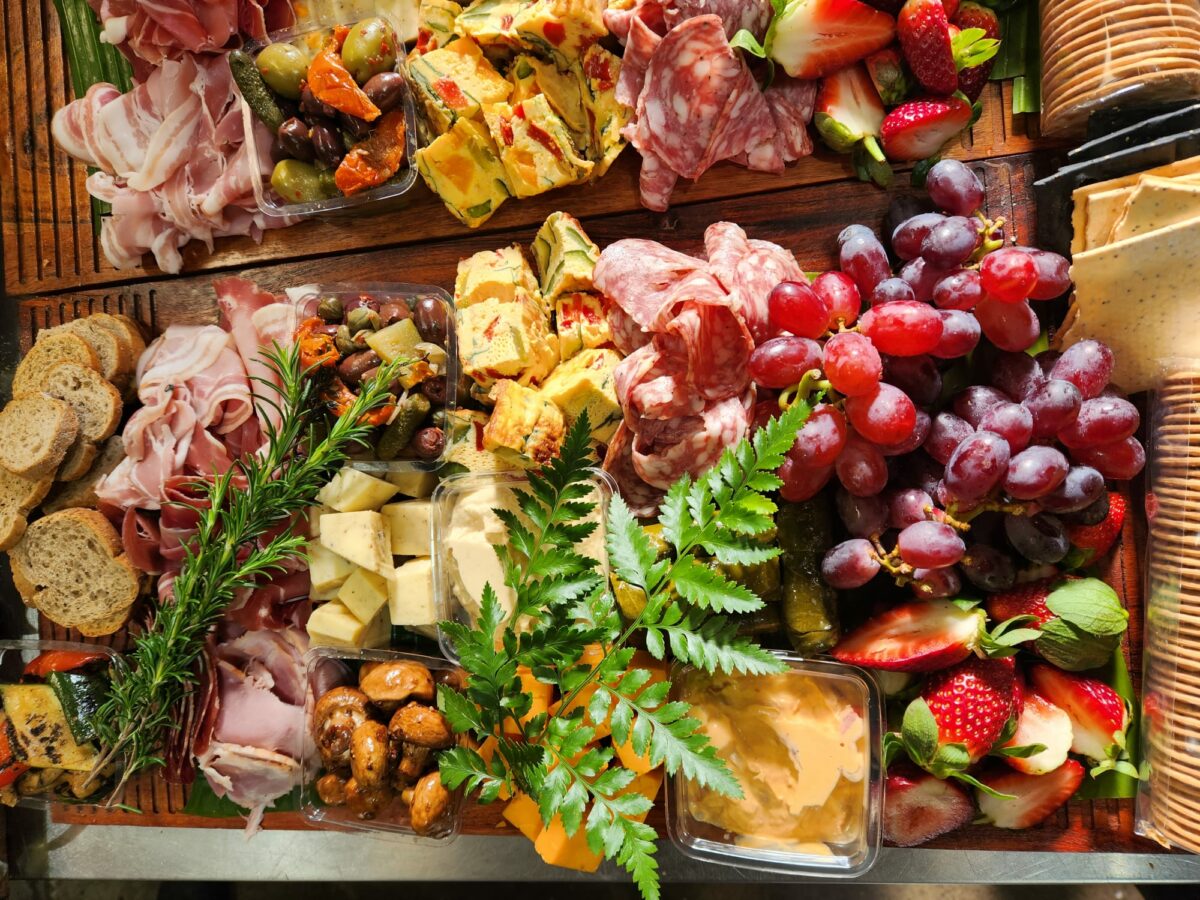 If you've been to a recent function, chances are you've encountered the hottest trend in event catering: grazing tables. These bountiful spreads of delectable foods have taken the culinary world by storm, becoming the go-to choice for hosts looking to make a statement with their catering. In this blog post, we'll explore the reasons behind the rise of grazing tables and why they're becoming a staple catering option for modern events. 
The Grazing Table Phenomenon
Grazing tables, also known as grazing platters or charcuterie boards on steroids, are a visual and gastronomic feast that captures the essence of abundance and communal dining. Instead of traditional plated meals or buffet-style service, grazing tables offer a more relaxed and interactive approach to dining. These tables, adorned with cheeses, cured meats, fresh fruits, nuts, dips, crackers, and gourmet bites, aren't just food; they're a work of art, carefully curated to be visually stunning and delicious.
Why Grazing Tables Are All the Rage
A Feast for the Eyes and Palate
 It's undeniable that grazing tables are content-worthy. They're a symphony of colours, textures, and flavours, making them a feast for the eyes and the palate. Guests are immediately drawn to the sheer visual appeal of a well-arranged grazing table.
Versatility
Grazing tables are incredibly versatile and suitable for various occasions. Whether it's a wedding reception, a corporate event, a birthday party, or an intimate gathering, grazing tables can be tailored to suit the theme and size of the event.
Encourages Interaction
These tables promote social interaction. Guests gather around, chat, and graze at their own pace, creating a relaxed and convivial atmosphere. It's a departure from the formalities of plated dinners and encourages mingling.
Dietary Accommodations
Grazing tables can easily accommodate various dietary preferences and restrictions. There's something for everyone, from vegetarian and vegan options to gluten-free and dairy-free selections.
Minimal Waste
Grazing tables are designed to minimise leftovers. The catered set-up is as much about aesthetics as practicality, giving guests various options without overindulging.
Customisation
One of the biggest draws of grazing tables is the opportunity for customisation. You can work closely with your caterer to curate a table that reflects your style and preferences.
Why Black Truffle Catering Excels in Grazing Tables
At Black Truffle Catering, we've embraced the grazing table trend wholeheartedly, and here's why we excel in crafting unforgettable grazing table experiences:
Culinary Expertise
Our culinary experts bring a wealth of experience and creativity to the table. We source the finest ingredients and curate a selection of artisanal cheeses, charcuterie, fresh produce, and gourmet bites that will delight your taste buds.
Artful Presentation
Grazing tables are as much about presentation as they are about taste. We take great care in arranging and styling our tables to ensure they are visually stunning, making them the centrepiece of any event.
Personalisation 
We understand that every event is unique. That's why we work closely with our clients to tailor grazing tables that align with the event's theme, colour scheme, and dietary requirements. Your vision is our inspiration.
Hygiene and Safety
In today's world, safety and hygiene are paramount. We adhere to the highest cleanliness and food safety standards, ensuring that every item on our grazing table is prepared and presented with the utmost care.
Exceptional Service
Our commitment to excellence extends beyond the food. We provide exceptional service, ensuring your grazing table experience is seamless and stress-free from planning to execution.
It's clear that grazing tables are, for many, the undisputed stars of event catering, and here's why: they serve up a mouthwatering fusion of art and taste, foster lively interaction, cater to diverse dietary needs, and adapt seamlessly to any occasion. 
At Black Truffle Catering, we've fully embraced this trend, blending our culinary mastery, artistic flair, and tailored options to create grazing tables that leave a lasting mark. 
Ready to transform your upcoming event into an unforgettable culinary experience? Contact us today, and let's craft a grazing table that'll have your guests talking long after the event. Don't miss the chance to transform your gathering into a delectable masterpiece!