Crafting the Perfect Menu for Your Corporate End-of-Year Function
---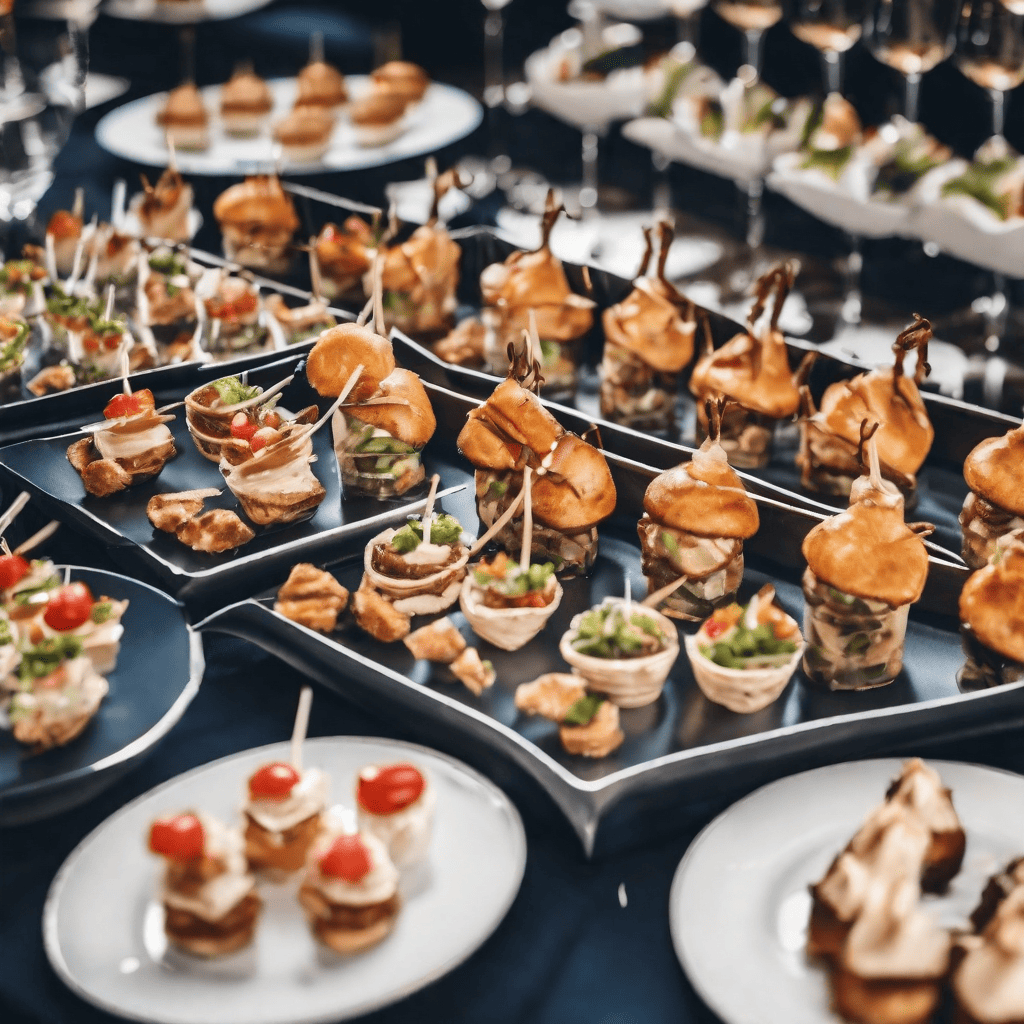 The office party season is ramping up, but you're stuck playing menu roulette. Catering your company's end-of-year bash is no picnic, especially with diverse tastes and dietary needs to feed. 
You want everyone leaving with full bellies and fond memories, not complaints about the lacklustre catering. This event needs food that wows – not the same old sandwiches and sausage rolls. Why? According to the statistics, 94% of respondents believe that the quality of catering can significantly impact the overall success of a corporate event (EventMB, 2022).
In this blog, we'll unlock the secrets to curating a menu that elevates your end-of-year festivities. You'll discover crowd-pleaser catering options, pro tips on picking foods that delight, budget-clever ideas to maximise value, and mouthwatering food ideas.
With some strategic planning, you can orchestrate a standout spread celebrating another great year of organisational success.
Types of Menus That Work Well
1. Buffet-Style Menus
Buffets offer a wide variety of options and encourage mingling among employees. This approach is great for larger corporate gatherings, allowing guests to choose from dishes catering to different dietary preferences.
2. Plated Dinner Menus
For a more formal and elegant affair, plated dinners provide a refined dining experience. This option allows for a carefully curated sequence of courses, creating a sense of sophistication and control over the dining experience.
3. Interactive Food Stations
Bring fun and engagement to your corporate event with interactive food stations . Whether a live cooking demonstration or a DIY food bar, these stations add an entertaining and memorable touch to the festivities.
4. Themed Menus
Align the menu with the overall theme of your end-of-year function. Whether it's a winter wonderland celebration or a retro-themed party, incorporating menu items that resonate with the theme enhances the overall experience for attendees.
Mix It Up with Irresistible Aussie Fare
Skip the typical chicken and cold cuts and go for crowd-pleasing Australian classics with a modern twist. How about gourmet meat pies with exotic fillings like Thai red curry chicken or chunky beef rendang? Impress vegetarians with halloumi burgers, roasted veggie skewers and zingy cauliflower tabbouleh salad. 
No Aussie bash is complete without a prawn on the barbie. Serve juicy garlic prawn skewers and moreish coconut prawn curry puffs. For dessert, dazzle guests with lamingtons, Pavlova and nostalgic jelly slices.
Cater to All Tastes and Dietary Needs
With gluten-free, paleo, vegan and other diets to accommodate, providing options for everyone can feel like a lot!. Include dairy-free and low-sugar desserts, vegetarian mains, and gluten-free nibbles like rice paper rolls. 
Label foods clearly and have serving utensils to avoid cross-contamination. Choose dishes that appeal to multiple diets, like salads and grilled veggie sides.
Budget-Savvy Tips for Maximising Value
Catering gets expensive, so get creative with cost-cutting tricks. Opt for finger foods and canapés, which give you more bang for your buck over plated dishes. Make the most of in-season produce and buy ingredients like bread, juices and decorations in bulk. 
For alcohol, go for Australian wines and beers over imported ones. Provide one or two signature cocktails rather than a full open bar. And don't overlook non-alcoholic options like mocktails, kombucha and Aussie iced tea.
Make the Menu Uniquely You 
For an extra memorable bash, add personal touches that reflect your workplace culture. Name dishes after company values, big client wins or inside jokes. Print the menu on trivia cards or ask guests to vote for their favourites for a fun reveal. 
With the right mix of crowd-pleasing fare, budget-savvy tips and personal flair, you can orchestrate an end-of-year menu to remember. Here's to celebrating another great year of success down under! Let us know if you need any other party planning pointers before the big day.
Black Truffle Catering: Serving Up Corporate Menus That Leave 'Em Hungry For More
At Black Truffle Catering, we get that crafting the perfect end-of-year menu is no small feat. 
With so many tastes to cater to, dietary needs to accommodate, and budgets to keep in check, curating a crowd-pleasing corporate spread can be tricky. 
That's where our team comes in. Our experienced chefs whip up menus with something irresistible for everyone – from gluten and dairy-free options to gourmet Australian fare that wows.
And our event planners help take the hassle out of decision-making. We'll collaborate with you to understand your vision and guests. So you can feel confident the menu ticks all the boxes – and leaves bellies satisfied.
In short, we're obsessed with creating extraordinary dining experiences. So you can be sure our culinary creations will make your end-of-year celebration memorable. Let's toast to that!